****Julie recently launched her own fashion blog!! It's already become wildly popular, and she is getting tons of attention, and press inquiries! Check it out and subscribe! www.Thefashionminx.com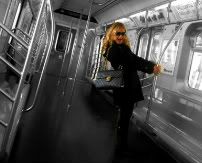 ***Julie was just cast in the critically acclaimed comedy show, "All About Walken"
***Julie recently directed the amazing original play, "The Session" by Chris Ferretti for the prestegious Strawberry One Act Festival in New York City! "The Session" made it to the finals of the competition, and both Julie, and the writer, and star, Chris Ferretti recieved critical acclaim, and tons of press!
***Julie made the front page of her local newspaper!!! She was featured in an article detailing her Bronx childhood, and accomplishments in the entertainent industry! Check out the article here!
****Both Julie, and her boyfriend, actor, and award winning playwright Chris Ferretti, were recetly asked to model for stock photographer Katharine Andriotis. One of the shots can be viewed in the PHOTOS section of the website! More photos will be posted soon!